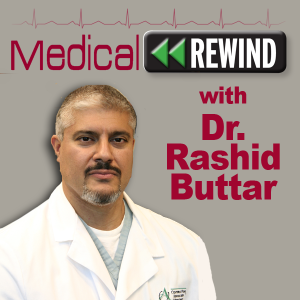 If you missed any of the Medical Rewind shows with Dr. Rashid A. Buttar and Robert Scott Bell, be sure to go to www.MedicalRewind.com to listen to the show replays.
..
TO DOWNLOAD: Click on "DOWNLOAD MP3" in the player below.
Get ready to learn things not traditionally taught to medical doctors!
Some of the things you will hear Dr. Buttar and Robert talk about in this week's show are:
New findings published in the journal Proceedings of the Royal Society B suggest that exposure to an environmental toxin could increase the risk of

neurodegenerative disease

. 
At least 41M children under the age of five are obese or overweight across the globe according to WHO.

Colon cancer rates are rising among men and women under 50, the age at which guidelines recommend screenings start, a new analysis shows.
The vaccine for chickenpox and shingles has been linked to inflammation of the eye's cornea, but the number of such cases is small.
The mosquito-borne Zika virus, which has harmed thousands of babies born in Brazil, will likely spread to all but two countries in North, Central and South America, the World Health Organization warns.
Did you know that Aquafina (by Pepsi) and Dasani (by Coca-Cola) are actually plastic bottles of tap water? Did you know that many brands of purified, well and spring waters contain fluoride? Do you filter? Bring on the molecular hydrogen and filtration!
Did you know about the FDA destroying supplement companies by claiming that their products are unapproved new drugs? Is there life after Trans-D Tropin? Yes there is. Click here to read a special message.
..
How can you get an Advanced Medicine Seminar in your city?
Just get 50 or more of your friends together and contact info@drbuttar.com to learn the details.
..
Remember to pick up the international best seller "9 Steps To Keep the Doctor Away!" http://www.the9steps.com/ (if you buy the book, you can get a DVD for an incredible discount!)
..
..