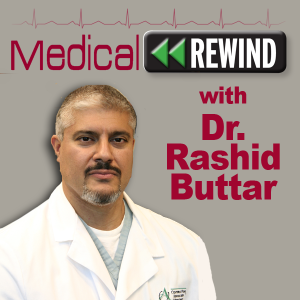 If you missed any of the Medical Rewind shows with Dr. Rashid A. Buttar and Robert Scott Bell, be sure to go to www.MedicalRewind.com to listen to the show replays.
..
TO DOWNLOAD: Click on "DOWNLOAD MP3" in the player below.
Get ready to learn things not traditionally taught to medical doctors!
Some of the things you will hear Dr. Buttar and Robert talk about in this week's show are:
Extreme fatigue, muscle and joint pain, headaches … Could you be suffering from chemical sensitivity?  Written by Doris Rapp, Our Toxic World: A Wake Up Call, helps readers understand the impact frequent chemical exposure has on our everyday health. As the book explains, not everyone is affected in the same way, and some are completely clueless as to what is causing their annoying symptoms i.e. wheezing, headaches, skin rashes, sleeping problems, joint pain and more.
In non-shocking news, almost a third of U.S. cancer survivors  financial burdens, physical and mental health tends to be worse , according to a new study.
Can what you eat fix your stomach? Not to be confused with Irritable Bowel Syndrome (IBS), which is a non-inflammatory condition, Inflammatory Bowel Disease (IBD) now affects an estimated 1.4 million Americans, according to the U.S. Centers for Disease Control and Prevention. IBD, which includes Crohn's disease and ulcerative colitis, is a chronic, life-long condition that can be treated but not necessarily cured.  For those affected by IBD, James Scala's book, Eating Right for a Bad Gut, teaches readers how to combat their symptoms, and in some instances, send the disease into remission.
Since cell phones are so convenient and since microwave radiation is invisible to us, we never consider the risks of carrying cell phones on and around our bodies. But the FCC does assess the risks and requires cell phone companies to warn consumers of the dangers of microwave radiation. Over time, these energy waves heat up specific areas of the body that are constantly exposed. This can lead to carcinogenic activity within the cellular processes.  RSB has some ideas to help you protect yourself from your favorite device!
A Houston family is preparing to sue their daughter's dentist after the 4-year-old allegedly suffered severe brain damage following an appointment.  Her family's attorneys say were caused by the use of too many sedatives and an often controversial restraint device. The girl saw the dentist to get some of her teeth removed and capped due to decay.
There is a link between genius and autism – many artistic savants, as many as 70% are also considered autistic.  However, most people on the autistic spectrum are not considered savants, and most face many challenges in day-to-day life.  What can we do about the sudden rise of autistic symptoms and suffering in America?
Is there life after Trans-D Tropin? Yes there is. Did you know about the FDA destroying supplement companies by claiming that their products are unapproved new drugs? Click here to read a special message and find out the alternative to Trans-D Tropin.
..
How can you get an Advanced Medicine Seminar in your city?
Just get 50 or more of your friends together and contact info@drbuttar.com to learn the details.
..
Remember to pick up the international best seller "9 Steps To Keep the Doctor Away!" http://www.the9steps.com/ (if you buy the book, you can get a DVD for an incredible discount!)
..
..